I recently mentioned that I was hoping to make my own countdown to Christmas this year. I actually did it!! I came up with a list of 24 amazing very simple items that the kids and I will do the first 24 days of December. Amongst those things we will also be reading the books I mentioned previously.
I also got these neat Nativity scene sticker sheets to do this month.
My chain is rather thick and not real long but it fits on the wall perfectly next to the door and the little ones will be able to help tear one off each day. Hannah has asked about every hour if it is time yet.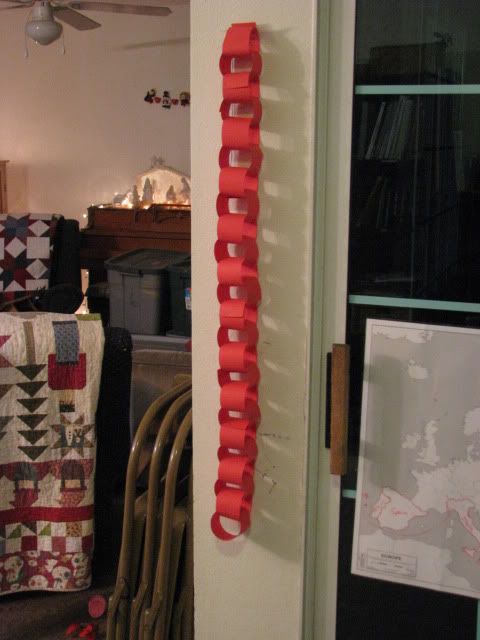 My list of items with notes.
1. Get a tree.
I found out that our tree lot here in town will open on the 1st and so we'll get our tree that day!
2. Play a Game.
We do play games often, but I don't play much with the little girls.
3. Make an ornament.
I have already ordered a bunch of items from Oriental Trading Company.
4. Put together a stocking for dad and mail it to him.
5. Make a paper chain.
6. Learn some Christmas songs.
7. Drink cocoa while sitting by the tree.
8. Carol a family from church.
9. Make cards for Sunday School teachers.
10. Make magnet craft.
11. Draw pictures to send to dad.
12. Sign Christmas cards before mailing.
And now that I have this on the list I must get my cards ordered!!
13. Call Hannie (my mom) and sing her some Christmas songs.
14. Do a treasure hunt.
15. Bake Cookies.
16. Take cookies to gate guards.
17. Make another ornament.
18. Drive around looking at Christmas lights.
19. Give out candy canes at church.
20. Call Grandma Janis (Roy's mom) and sing her some Christmas songs.
21. Watch a Christmas movie.
22. Write notes to each other for our stockings.
23. Read Christmas story from the Bible.
24. Make Christmas necklaces.
I would have included decorating the house but Samantha really wanted to get started this past weekend. Here's our nativity set.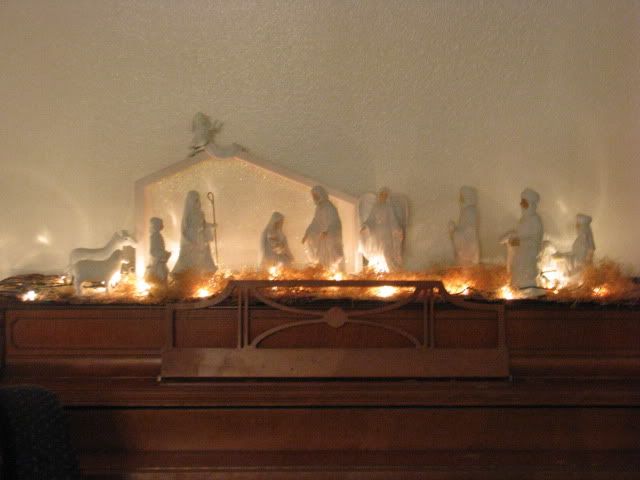 Let me know if you do anything similar! I'd love to hear about it!